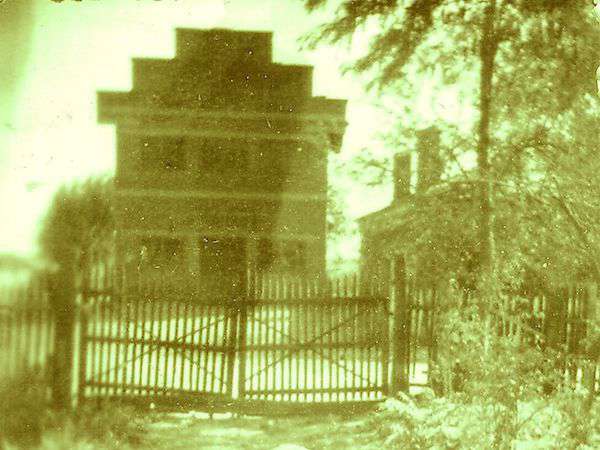 Moara reală.
O fantomă, ruinele unei mori, o crimă nedezlegată.
O femeie descoperă în vitrina unei librării un roman despre viața ei.
În moara părăsită se întâmplă lucruri misterioase: un un efeb fermecător, o femeie ispititoare, mesaje divine, întâlniri mistice și un mort întors de pe lumea cealaltă, fac ca viața comunității să se adâncească într-un labirint de întâmplări.
În casa noastră era mereu multă lume, oameni veniți în vizită în mod regulat ori întâmplător, rude, prieteni și nelipsitul Lache Ogaru, un bătrân subțirel, cu nasul lung, care povestea continuu, cu vocea lui inconfundabilă, care mă chema ori din ce cameră aș fi fost, și care venea regulat la ora 5 după–amiaza să-și bea cafeaua împreună cu bunica mea, pe care–o chema, împărătește, Iozefina. Mi-l aduc aminte cu pălăria de pai, marcată cu banderolă neagră, și bastonul albicios, excesiv de protocolar, înclinându-se în fața tuturor ascultătorilor lui, chiar și în fața mea. Ori de câte ori povestea, părea legat cu un șiret de mătase, de oricine stătea să-l asculte.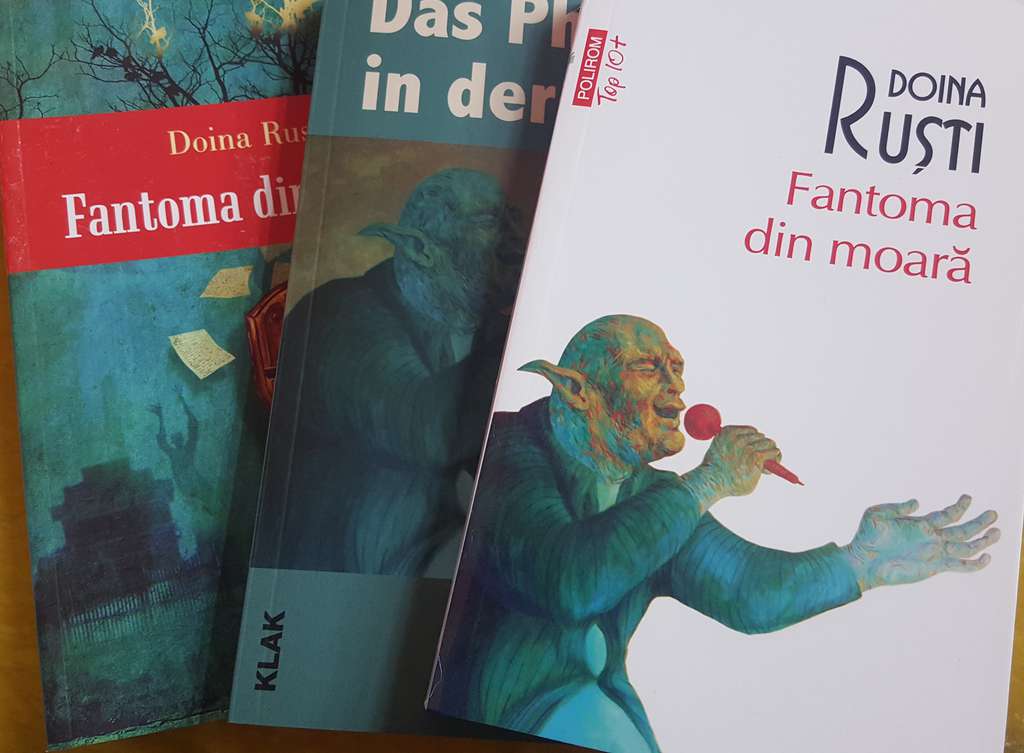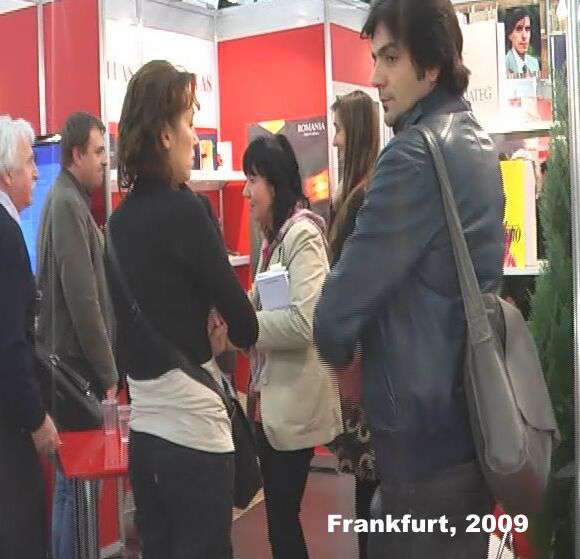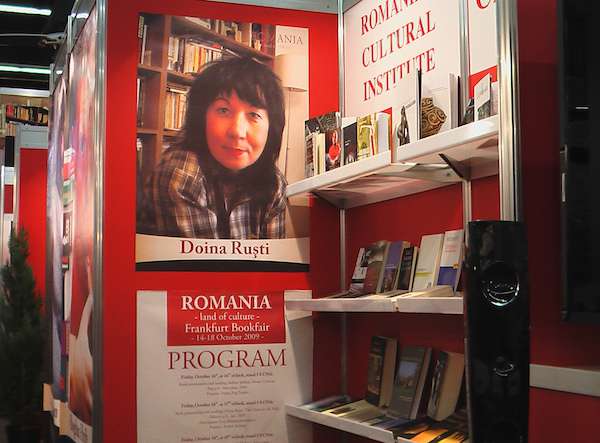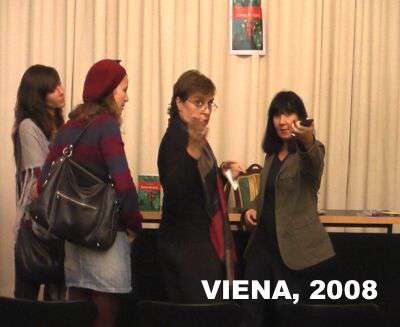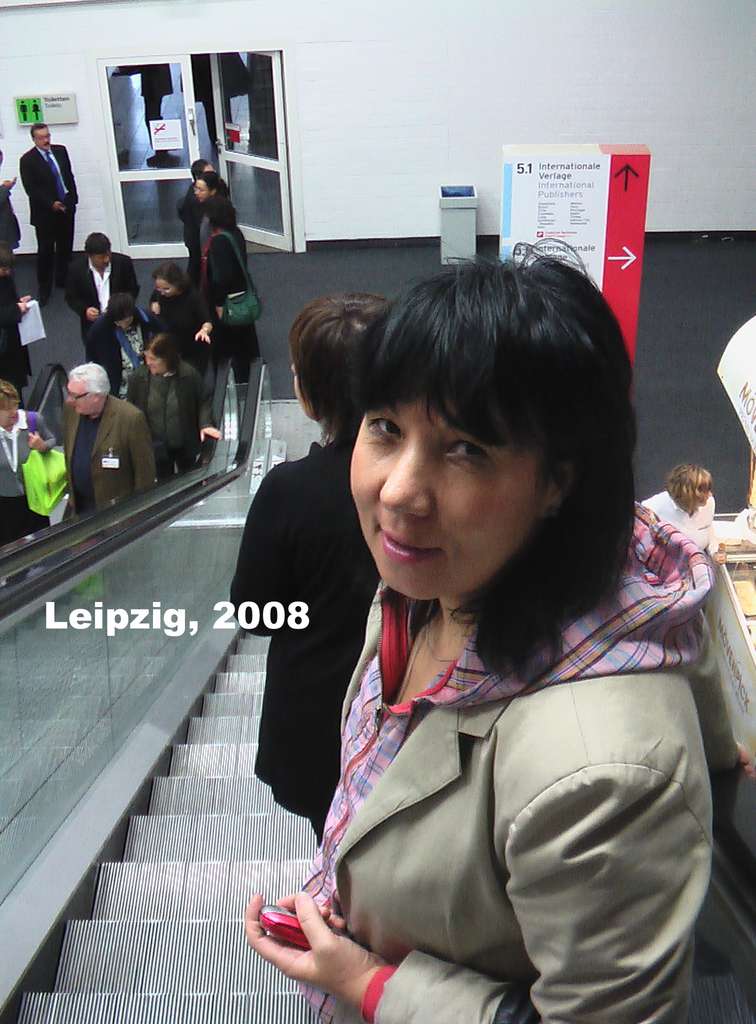 A Romanian event at the Frankfurt Book Fair: the German translation of the novel "The Ghost in the Mill" by Doina Rusti
BY NINEOCLOCK
OCTOBER 11, 2017 AT 11:07 AM
This year, the Frankfurter Buchmesse Book Fair will be held from October 11 to 15 and will be opened by Angela Merkel and Emmanuel Macron.
The Fair will be attended by some of the best ranked writers of the day, such as Margaret Atwood, Dan Brown, Nicholas Sparks, Michel Houellebecq, Ken Follett, Cecilia Ahern, Paula Hawkins, Alain Mabanckou, Leila Slimani and many others. France, which is the guest country, announced that more than 180 writers will be present at the fair.
From a thematic point of view, this year's edition of the oldest book fair has chosen the theme of the freedom of speech, especially referring to the Turkish writers.
One of the Frankfurter Buchmesse's events is the launch of the novel "The Ghost in the Mill" ("Fantoma din moara" – e.n.) by Doina Rusti, recently published at Klak Verlag in Berlin (translated by Eva Ruth Wemme).
The launch of the book will be held on Saturday at 12.00, at Romania's stand, as a debate related to the book, about history and guilt. Jan Cornelius and Jörg Becken, a historian and publisher from Berlin, will b invited together with Doina Rusti.
The novel "The Ghost in the Mill" ("Fantoma din moara" – e.n.), published in 2008 (Polirom Publishing House) is a complex parable of the Romanian communism, a dense and heavy novel about the lability of truth. The terrible story of an 80s teacher meets the suffering of an interwar teacher over the time. A mixture between reality and fantasy, written in the formula of a thriller, the novel gradually becomes a fresco of the communist period, from Stalinism to the fall of the Berlin Wall.
"The Ghost in the Mill" was rewarded with the Prose Award of the Union of Romanian Writers.
Doina Rusti is one of the most appreciated feminine voices of the contemporary literature. Being translated in many languages and invited to international events, she is mostly known for her novels with diverse themes and with a solid construction. Her novels, some of which are republished in the Top 10+ collection, include "The Ghost in the Mill" (2008), "Zogru" (2006) and "Lizoanca" (2009), or "The Phanariot Manuscript" ("Manuscrisul fanariot" – e.n.) (2015) and "The Book of Perilous Dishes" ("Mâța Vinerii" – e.n.) (2017)".
Doina Rusti lives in Bucharest, she is a professor and a screenwriter.
https://www.perlentaucher.de/buch/doina-rusti/das-phantom-in-der-muehle.html