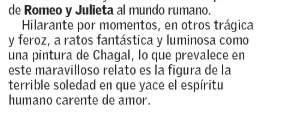 Zogru is a being brought forth from the core of the earth in 1460, who bends history into nowadays, when he meets Giulia, a film student. Zogru feels irresistibly attracted to this woman, and from there begin his miseries...
The secret epilog of the novel Zogru, written to 1st cover:
The work of Bratu was discovered in 1962 in the back of an orthodox icon into the Zetari Church, in Bucharest. On the front is painted the face of Virgin Mary, and on the back, underneath the silver avail, was the adjoining painting with next annotations: Bratu Geamănu, 1840. This signature is not found on any other icons and the painter is completely unknown.