Stories & Novels in translation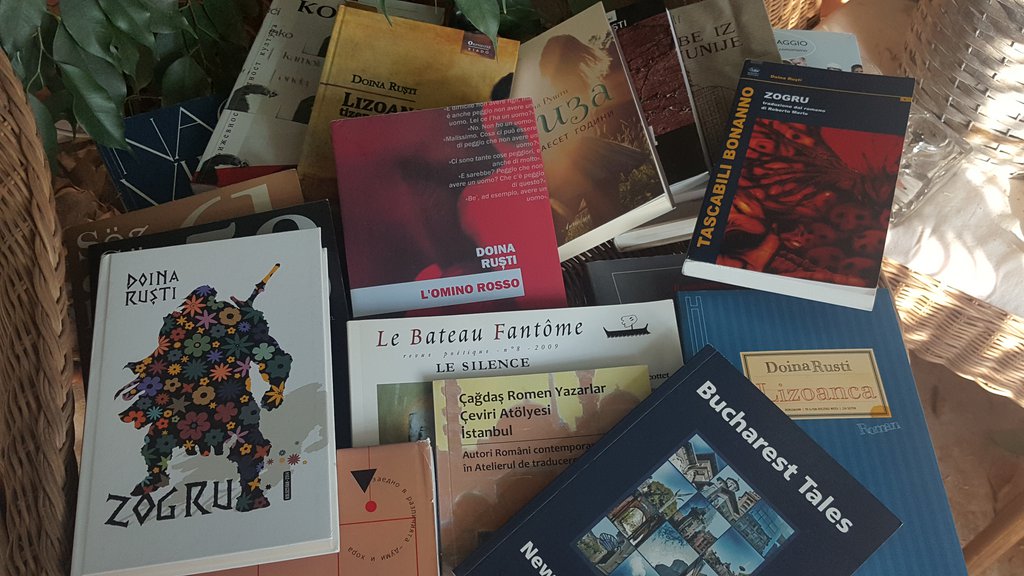 Freitagskatze, Klak Verlag, Berlin, trad Roland Erb, 2017
Strena
Diese Pastete trägt den Namen Strena, weil sie großes Interesse für die Zukunft hervorruft. Die (frischen oder  getrockneten) Pflaumen werden gewaschen, abgetrocknet und auf ein Hirsebett geschüttet, genauer gesagt auf einen aus Weizen- und Hirsemehl gekneteten Teig, der nur leicht aufgegangen ist. In dieses Bett mischt man auch eine Handvoll  gehackter Mandeln, eine gute Handvoll  Nüsse und geriebene Orangenschalen. Wenn alles so weit ist, gibt man es in den Backofen, und sobald die Pflaumen einen brenzligen Geruch bekommen, beträufelt man die Pastete mit dem Saft von Basilienkraut. Und alles ist fertig. Die Strena ist das Gebäck einer erschreckenden Zukunft und die Nahrung der Hoffnung.
(Freitagskatze – Das Buch der bösen Gerichte)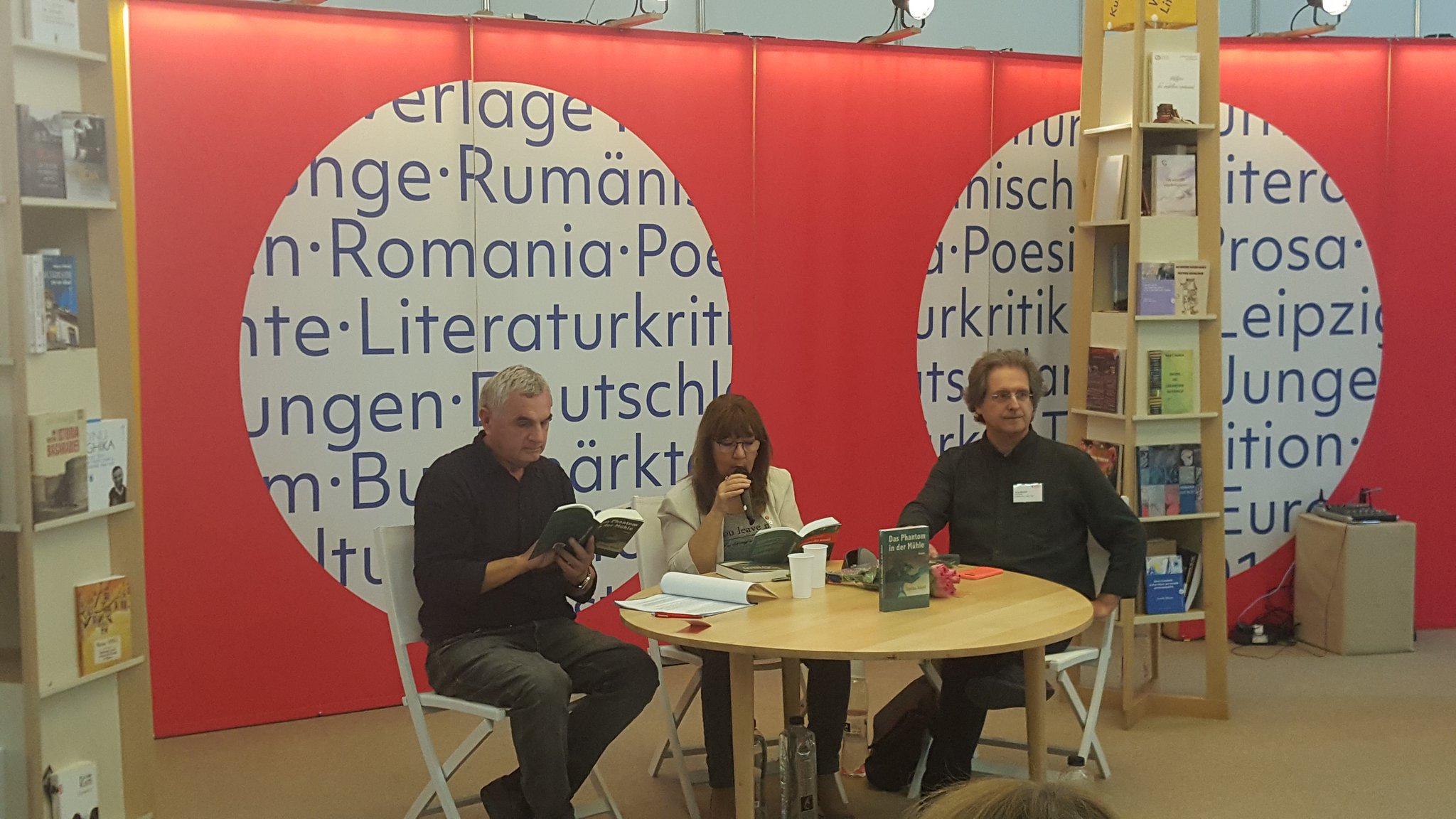 Frankfurt, 2017, with Jörg Becken, Jan Cornelius
Das Phantom in der Mühle, Klak Verlag, Berlin, trad. Eva Ruth Wemme, 2017
The Truancy (story), The Stockholm Review of Literature, 2017, Springer
When the ten o'clock break ended, she took a last look at the stinking toilet bowl and cautiously pulled the door ajar. She couldn't hear a thing; not even the cleaning lady's rubber shoes. The water spilt during the break still glistened on the blue tiles, and someone had left their lipstick on a sink.
The Phanariot Manuscript (trans Liana Grama), Trafika Europe, nr 8, 2016
The Lover (Andrew Davidson), Trafika Europe, nr 8, 2016
Eliza (Lizoanca) trans. Alexandra Kaitozis, Antolog, 2015, Skopje
Eliza a los once años, Ediciones Traspiés, Granada, 2014 (trans Enrique Nogueras)
Lizoanca tizenegy évesen trans. Szenkovics Enikő Orpheusz Kiadó, Budapest, 2015
Fenerlilere ait elyasmasi eser (Manuscrisul fanariot), frag, trans. Leila Unal, Sözcükler , 58, aprilie, 2015, Istanbul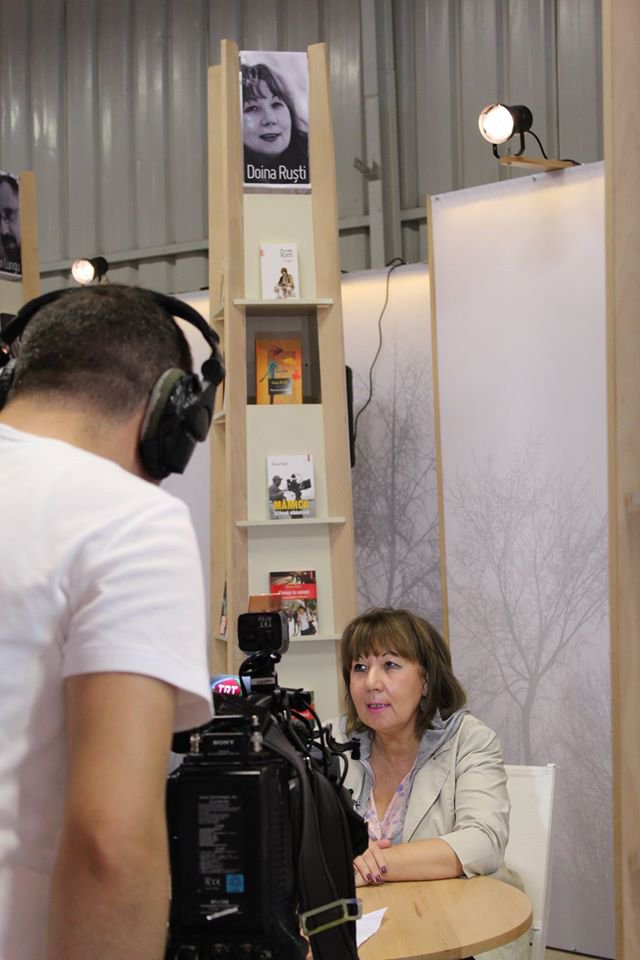 Istanbul, 2015
Zogru, Sétatér Kulturális Egyesület, 2014, prin bursa "Franyó Zoltán", oferită de guvernul maghiar (trans Szenkovics Enikő)
Lizoanca, Horlemann Verlag, Berlin, 2013 (trad Jan Cornelius)
Lisoanca, Rediviva Edizioni, Milano, 2013 (trad Ingrid Beatrice Coman)
Tamara Roman in Aparment 26 (r. Alexandra Băilă), 2012
Apartamentul 26, trans. Oana Ursulesku, Koracic, Belgrad, 2013. video
L'omino rosso, Nikita Editore, Firenze, 2012 (trad Roberto Merlo) trailer (it)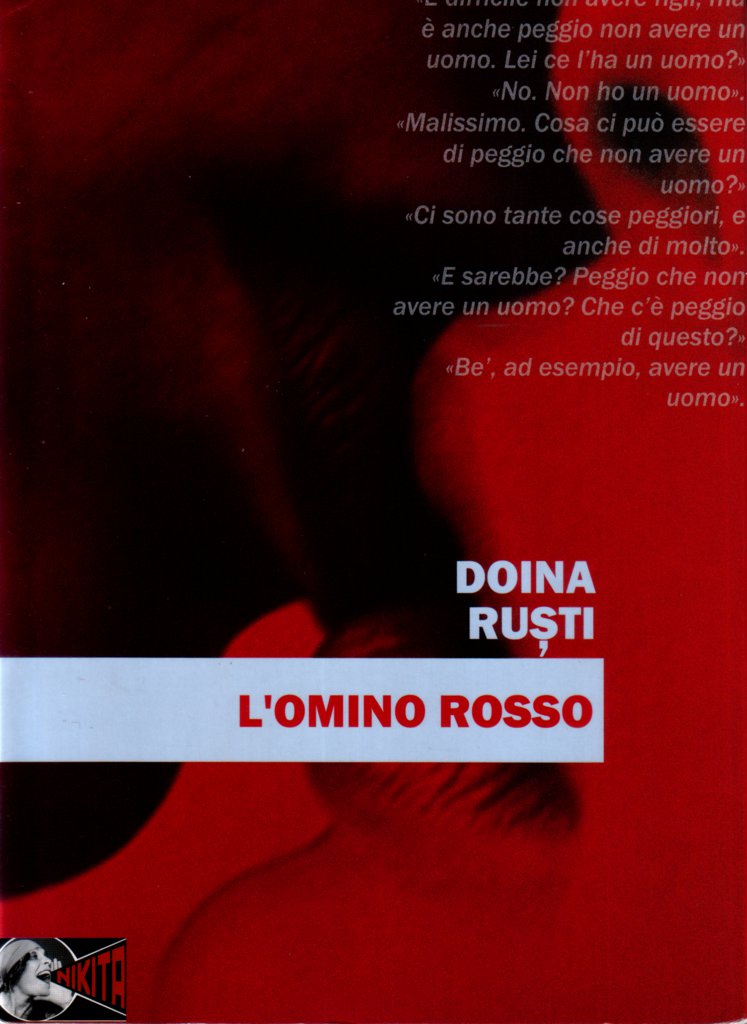 Bill Clinton's Hand, Bucharest Tales, New Europe Writers, 2011, (coord:A. Fincham, J. G Coon, John a'Beckett)
K a r e l i gomlek ve Bukreș'teki Bașka On Hadise (Cămașa în carouri și alte 10 întâmplări din București), trans. Cristina Dincer, Kalem Kultur Yaynlari, Istanbul, 2011
I miei ginecologi, in Compagne di viaggio, Sandro Teti Editore, 2011 (trad Anita Bernacchia) (coord Radu Pavel Gheo, Dan Lungu)
Ura pri univerzi, Zgodbe iz Romunije, Sodobnost International, Ljubljiana, 2011 9.
Zogru (trad. Roberto Merlo), Ed Bonanno, 2010, Roma; Catania
L'omino rosso (trad Roberto Merlo) în Il romanzo romeno contemporaneo, Ed. Bagatto Libri, 2010, Roma.
Zogru (frag.) și prezentare biobibliografică, în 11 books contemporary romanian prose, Ed. Polirom, 2006, traducere de Alistair Ian Blyth
Zogru (roman), Balkani Publishing House, Sofia, trad: Vasilka Alexova, 2008.
Învingătorul - antologia revistei Nagyvilag (trad. Noémi László), Budapesta , sept/ 2010
Cristian (trad. în fr. Linda Maria Baros), Paris, rev Le Bateau Fantôme , no. 8, 2009, ed. Mathieu Hilfiger
Cristián (trad. Sebastián Teillier), Madrid, rev. El fantasma de la glorieta, nr. 16/2008,
The begining (poem), in Under a Quicksilver Moon, 2002, SUA, Library of Congress, Washington.
Dicționar de simboluri din opera lui Mircea Eliade (frag.) în La Jornada Semanal, nr. 455; 456, 2003 (traducere: José Antonio Hernández García)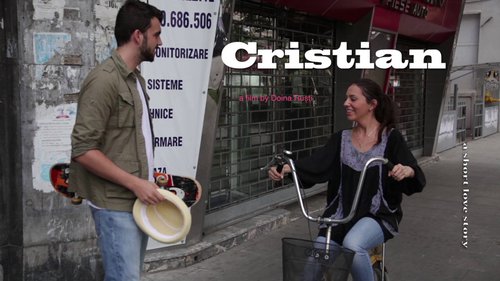 Cristian, short movie, poster (Dragos Panait, Teodora Toader). Cannes, Corner, 2015