Curriculum Laboris
novelist
DOINA RUȘTI, among the most important contemporary Romanian writers, is unanimously appreciated for epic force, for originality and erudition of her novels. Award winning and translated into many languages, she wrote ten novels, including: Fantoma din moară (The Phantom in the Mill, 2008), Manuscrisul fanariot (The Phanariot Manuscript, 2015), Lizoanca (2009), Zogru (2006) and Mâța Vinerii (The Book of Perilous Dishes, 2017).
Doina Rusti lives in Bucharest, and is a university professor and screenwriter.
Website: http://doinarusti.ro
Polirom Publishing, 2017
Doina Ruști
*Institutional affiliation: *
National University of Drama and Film, Bucharest,"I.L. Caragiale" (UNATC), Bucharest. Research Department
Bucharest University
Member of The Writers' Union of Romania
Member of PEN Club
Dacin Sara
BOOKS
NOVELS
Mâța Vinerii (The Book of the Perilous Dishes), novel, Polirom, 2017
Manuscrisul fanariot (The Phanariot Manuscript), novel, Polirom Publishing, 2015, 2016
Mămica la două albăstrele, novel, Polirom Publishing, 2013
Patru bărbați plus Aurelius (Four men plus Aurelius), novel, Polirom, Iași, 2011
Cămașa în carouri și alte 10 întâmplări din București (The checkered shirt and 10 other episodes from Bucharest), a puzzle novel, Polirom, Iași, 2010
Lizoanca la 11 ani (Lizoanca at the age of eleven), novel, Ed. Trei, București, 2009 (București), 2012 (Milano), 2013 (Berlin), 213 (Granada), 2015 (Budapesta), 2016 (Skopje), 2017 (Polirom).
Fantoma din moară (The Ghost in the Mill)*, * novel, Ed. Polirom, Iași, 2008
Zogru, Ed. Polirom, Iași, novel, 2006, 2010 (Sofia), 2010 (Roma, Catania), 2013 (Budapesta), 2018 (Santiago de Chile)
Omulețul roșu (The Little Red Man), novel, Ed. Vremea, București, 2004, 2012 (Firenze).
Translated work
Eliza (Lizoanca) trans. Alexandra Kaitozis, Antolog, 2015, Skopje
Eliza a los once años, Ediciones Traspiés, Granada, 2014 (trans Enrique Nogueras)
L i z o a n c a tizenegy évesen trans. Szenkovics Enikő Orpheusz Kiadó, Budapest, 2015
Fenerlilere ait elyasmasi eser (Manuscrisul fanariot), frag, trans. Leila Unal, Sözcükler , 58, aprilie, 2015, Istanbul
35 minutes après (trad. Anna Marquer-Passicot), Levure littéraire, nr 10, 2015.
Zogru, Sétatér Kulturális Egyesület, 2014, prin bursa "Franyó Zoltán", oferită de guvernul maghiar (trans Szenkovics Enikő)
Lizoanca, Horlemann Verlag, Berlin, 2013 (trad Jan Cornelius)
Lisoanca, Rediviva Edizioni, Milano, 2013 (trad Ingrid Beatrice Coman)
Apart. 26, trans. Oana Ursulesku, Koracic, Belgrad, 2013
L'omino rosso, Nikita Editore, Firenze, 2012 (trad Roberto Merlo)
Bill Clinton's Hand, Bucharest Tales, New Europe Writers, 2011, (coord:A. Fincham, J. G Coon, John a'Beckett)
K a r e l i gomlek ve Bukreș'teki Bașka On Hadise (Cămașa în carouri și alte 10 întâmplări din București), trans. Cristina Dincer, Kalem Kultur Yaynlari, Istanbul, 2011
I miei ginecologi, in Compagne di viaggio, Sandro Teti Editore, 2011 (trad Anita Bernacchia) (coord Radu Pavel Gheo, Dan Lungu)
Ura pri univerzi, Zgodbe iz Romunije, Sodobnost International, Ljubljiana, 2011
Zogru (trad. Roberto Merlo), Ed Bonanno, 2010, Roma
L'omino rosso (trad Roberto Merlo) în Il romanzo romeno contemporaneo, Ed. Bagatto Libri, 2010, Roma.
Zogru (frag.) și prezentare biobibliografică, în 11 books contemporary romanian prose, Ed. Polirom, 2006, traducere de Alistair Ian Blyth
Zogru (roman), Balkani Publishing House, Sofia, trad: Vasilka Alexova, 2008.
Invingătorul - antologia revistei Nagyvilag (trad. Noémi László), Budapesta , sept/ 2010
Cristian (trad. în fr. Linda Maria Baros), Paris, rev Le Bateau Fantôme , no. 8, 2009, ed. Mathieu Hilfiger
Cristián (trad. Sebastián Teillier), Madrid, rev. El fantasma de la glorieta, nr. 16/2008,
The begining (poem), in Under a Quicksilver Moon, 2002, SUA, Library of Congress,
Dicţionar de simboluri din opera lui Mircea Eliade (frag.) în La Jornada Semanal, nr. 455; 456, 2003 (traducere: José Antonio Hernández García)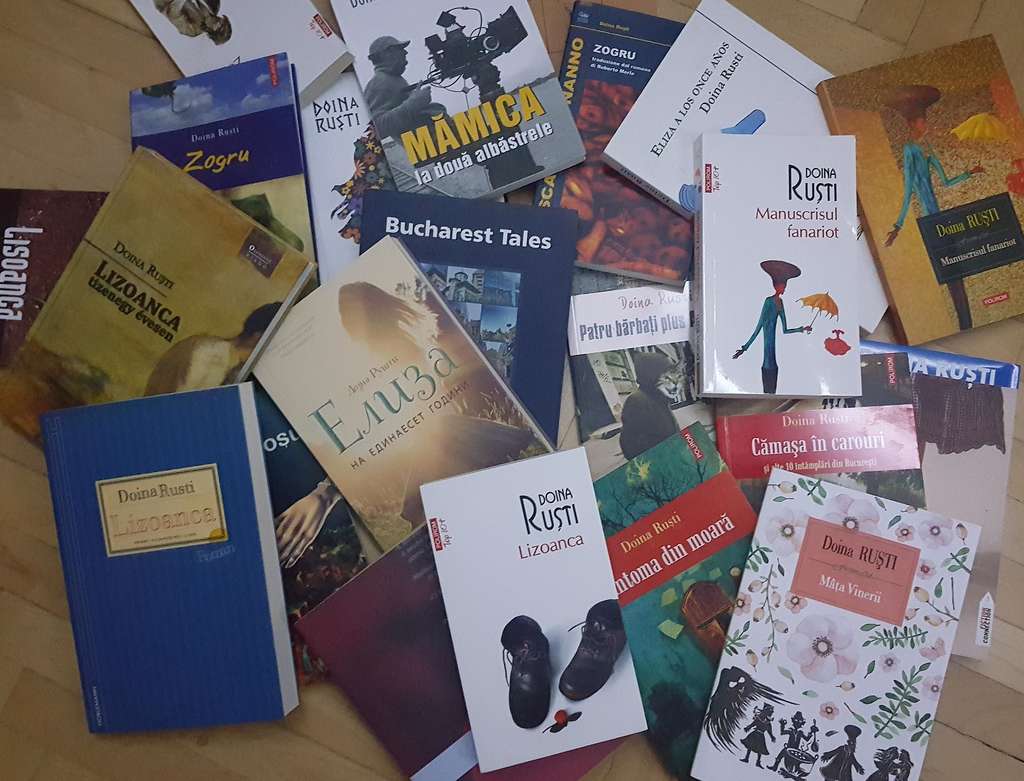 FILMOGRAPHY
Director
The Soldier's Book, documentary, 2018
Umbra perfidă a unei iubiri (The insidious shadow of love), SM, fiction
Ascona Film Festival, 2017
Festival Dona i Cinema – Mujer y Cine – Woman & Film, Spania, 2017
Cinefest, Los Angeles, 2017
GOLDEN BRIDGE INTERNATIONAL FILM FESTIVAL, Moscova, 2017
185 de ani de existență a ANR (Homage to the National Archives of Romania), Documentary
Cristian (written&directed by Doina Rusti), SM, fiction, 2015. Selected at Goa Festival; CineFest, Los Angeles; Corner Cannes; Independent Film Festival and Windsor Festival; Christian Film (Award for Best Foreign Film); Les Films de Cannes à Bucarest, 2015,
National Archives (written&directed by Doina Ruști), documentary.
Romanian Litterature (written&directed by Doina Ruști), documentary.
Writer
Nuns witch (directed byMarius Barna), L documentary, docudrama, CNC project financing. in post-production
Sun Dance (directed by Cornel Gheorghita), documentary, L, financed by CNC, 2015
Treasure naive (dir. Copel Moscu), documentary, financed by the CNC 2015 post-prod.
Servant Greek (regain: Germain Kanda), documentary, docu-drama, Elephant Film, co romanao-Swiss project ORW, 2015
Cream truffles, LM, fiction, Libra Film (Tudor Giurgiu) project funded CNC. Developing.
35 minutes after (directed Cristi Toporan), fiction, Short.
Fraud, directed by Cristian Panaitescu independently , fiction, short.
Apartment 26,, indep. (Directed by Alexandra Băilă), fiction, short.
Dialogues and adaptation
Miracle at Tekir (directed by Ruxandra Zenide), Elephant Film, Zurich
LM, fiction, 2015 (completed) Award best picture Swiss, Zurich, 2015:
*LITERARY PRIZES *
Ateneu (literary magazine) Prize for Prose, 2015
The Romanian Academy Prize ("Ion Creangă"), 2011
The Romanian Writers' Union Prize for Best Prose/2008
The Prize of the Bucharest Writers' Association/2007
Convorbiri literare (literary magazine) Prize for Prose, 2006
Nomination for The Book of the Year Award 2008, 2016
REWARDS
Diploma for supporting National Archives (ANR), 2016
The Golden Medal of "Schitul Darvari", for Literary Activity, 2008
Excellence in Teaching - National Award (2000)
About
Pedro Gandolfo, El Mercurio, August 19, 2018
"Full of humor in some sequences, in other tragic and ferocious, sometimes fantastic and luminous, like a Chagall painting, which is predominant in this wonderful story [ "Zogru"] is the figure of the terrible loneliness in which lies the human spirit ".
The Phantom is the narrative catalyst that makes secret forces manifest, especially those of a sexual nature, being also the most visible, single faith, dissolved in the last part of the novel.
In my opinion, the confidence, the artistry of portrayal, the exact and original description of the environment, the quest for a subtle epic crescendo, the illusion of stagnation make Doina Ruști a first class prose writer in current literature.'
( Nicolae Breban, when granting the Award of Romanian Academy, 2011)
Extraordinarias cualidades litterarias. (Antonio J. Hbero, La Opinion, 3 01 2015)
Un'ironica e seducente storia,." (Giuseppe Ortolano – Il Venerdì di Repubblica, 23 marzo, 2012, nr 1253)
Stupefacente è il fuocco di fila di trovate di espressioni pungenti e fulminanti que l'autrice escogita per descrivere situazioni e stati d'animo della sua protagonista. (Alessandra Iadicicco. La Stampa, nr 1815, 12 mai, 2012)
"Fa il verso ai noir fantastici la brava scrittrice rumena Doina Rusti, che ha dato alle stampe Lisoanca , storia di un'undicenne checontagia con la sua sifilide un intero villaggio, mietendo vittime anchetra le coetanee, salvopoirivelarsi una creatura immaginaria venuta da un altro mondo. Il libro si ispira anche ai grandi romanzi «sanitari», come La peste di Camus, dove il crimine attecchisce più facilmente in un contesto di malattia diffusa. questi sono certamente i modelli." (Gianluca Veneziani, Libero, 18 05, 2013)
"Mit ihrem erschütternden Buch über Gewalt an Kindern macht sie sich auch bei uns einen Namen. Das Buch geht unter die Haut und ist eine schwere Kost. Der anspruchsvolle Stil steht im Gegensatz zu der brutaen Handlung." (Martina Freier, ekz)
…even the smallest detail of the novel is veridical…
(Magyar Nemzet, 31 decembrie 2015)
http://mno.hu/konyvesirodalom/ezek-voltak-2015-legjobb-konyvei-1321445
Una historia muy admirable, por cierto, muy bien narrada. Muy recomendable. (Miguel Baquero, La tormenta en un vaso, 16 12. 2014)